DIScussions
This page is intended to provide a discussion forum to assist in unravelling the history of the Davrian Saloons. If you have any information which you believe could help in this task, please e-mail it to the New Davrian Register.
26/10/2011 : (Kevan McLurg - updated following info from Trevor Williams (21/04/14))
1) The car pictured below in the Brands Hatch pit lane in 1979 was a Rawlson Spaceframe Imp, built and raced by Trevor Williams and later owned by Steve Holland (see the second picture (green livery) which was taken at Lydden Hill as he only raced there and the odd race at Brands). The car also raced for many years with black paintwork.
Trevor explains,
"It was the second spaceframe built by Barry Shepherd who I had known for a number of years having bought his fibreglass panels for my earlier steel imp. He subsequently helped me with the fibreglass panelling for my self-built Formula Atlantic car which I raced throughout the 90's all around the UK. I only raced the spaceframe Imp for two years before selling it to Steve Holland due to lack of funds and the birth of my first daughter!
Barry and Fred Hendy delivered the car to my house and, whilst building it up, I recall that I had a problem fitting the gearbox as a tube in the centre of the car should not have been there and Rawlson took it back and modified it. I understand they had had a similar problem on Fred's car but had then forgotten to modify my chassis.
Barry and Fred Hendy delivered the car to my house and, whilst building it up I recall that I had a problem fitting the gearbox as a tube in the centre of the car should not have been there and Rawlson took it back and modified it. I understand they had had a similar problem on Fred's car but had then forgotten to modify my chassis.
I built the car myself in my garage at home and it was painted BL red and yellow. I only ever raced it at Lydden, Brands and Mallory Park, but it was certainly quicker than my previous steel imp by around 1.2 secs. straight out of the box at Lydden with the same wheels/tyres and suspension (although not dampers). At Brands, it was around 2 seconds a lap quicker and had I been able to afford new tyres I would have been lapping close to Fred Hendy's times.
As Fred indicates below, the chassis was very stiff but a little heavy compared to a Maguire Chassis but, as a result, was also very safe.
Those days in the 70's, racing Imps were real fun and whilst I raced for fun I was serious about it whilst not breaking the Bank. Great days and Special Saloons were without doubt the best racing cars to drive and to watch. Ingenuity was everything and development was very rapid and costly!"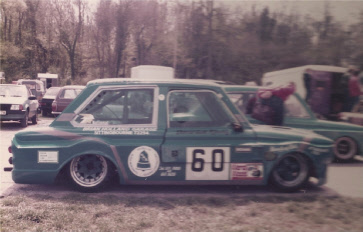 2) The Stiletto pictured above is David Smith at Donington in his 1300cc BDA-powered car which he raced in the Wendy Wools and then the Donington GT series. The car was based upon a Daren Group 6 2 litre sports car chassis (circa '70 -'71). N.B. the car has since been converted back to its original specification for eligibility in historic sports car racing".
3) Further info re DIS photos : Photo #8 Chrade Imp is 850cc Imp circa '79/'80. I think it's Pete Knipe (see also Clive Brown's info below) and I'm pretty sure it uses a space-frame rather than a Davrian floor pan. My dad raced in the 850cc class and that photo is at the Mallory Park hairpin; we went there once or twice possibly in the Wendy Wools championship.
Photo #9 is from Ingliston, possibly featuring McGaughay or Gauld and photos #11 and #25 are also from Ingliston.
28/10/2011 : (Clive Brown wrote to Kevan McLurg re the Rawlson Imps)
As for so-called Rawlson Imps, these really fall into three categories:
i) What I call the Davrian Rawlson Imp. A one-piece fibreglass monocoque based on a Davrian, with integral external bodywork. Most famous example was surely Homewood's Plastic Pig, but I believe other examples went to both Scotland and Eire. (Yes, ten cars built : two BDA cars and one Stilletto <KM>).
ii) The genuine Rawlson Imp. Same exterior shell as (i) above (although they looked similar, the wheel arches were different <KM>), but used a steel tube spaceframe from Rawlson's in Dover. I'm not sure how many there were, but Fred Hendy's was the first one, and Chris Roberts and Adrian Gamble ran the Chrade Imp, the second of the cars, which was raced as an 850cc or one litre (it had a very funny 850 with nothing machined off the top of the timing cover, nudge nudge, wink wink, say no more....) Fred sold his car to Trevor Willcocks (Did he share car with his brother? <KM>), who in turn sold it to Peter Halls. He cut down the side sponsons, and rebodied it with what looked like Maguire saloon bodywork. I don't know where it went after he had it (useful info: I don't recall Pete Halls in an Imp <KM>) I think Steve Holland's was another car. Was it the ex-Chris Roberts' car? Roberts sold his car fairly soon after he got it, deciding that it was too heavy. He then built his own car, which used a Rawlson over-shell.
iii) Cars using a Rawlson outer shell over another chassis. There were loads of these, mostly over spaceframes but at least one over what originally was Vic Lee's Mason Stiletto, which he wrote off at Oulton Park.
I don't know a lot about Brian Davis' 1300 BDA car, although I seem to remember that it was a saloon, rather than a coupé. Where did it come from? (New from Davrian according to their build records: also who did Irishman David Halls sell his 1212cc car with a 5 bearing crank to? Allegedly, it came to John Homewood to sell - DH raced it once on the Brands Hatch GP circuit - Did it pass on to Brian Leonard, who at one time had a Davrian or Rawlson-bodied car <KM>) ( I believe that this is basically correct with the exception that I think Brian's was a different car <CB>)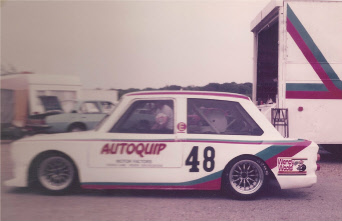 09/01/2012 : (Kevan McLurg)
I spoke to Brian Davis last week re his 1300 BDA Imp and he said he bought it new from Tim Duffee and had the rear end as a spaceframe to take the BDA and Hewland gearbox. He said that car was not nice when it was delivered and he had to do a lot of work himself . He also recalled selling the car but couldn't remember any details except that he took a Pontiac in part-exchange and that he thought that the guy was new to racing and possibly a casino manager from Brighton.. He also believed that the car was written off at Donington (he thinks that he may have an Autosport cutting of the car being crashed and will also dig through his files for further information). I believe that I remember seeing an advert of the car for sale around 1980).
11/01/2012 : (Kevan McLurg)
Adrian Hamilton has just called me about one of my F-Fords, and I took the opportunity to ask him about the Davrian Imp he had (white with red squares) : he said that his car was new from Davrian, sold to a guy in London and that he swapped it for the ex-Ian Forrest VW Scirocco Imp-engined car, he had previously been racing. He also told that he later sold the car direct to Mel the prince in Singapore and that he is still in some form of contact with the garage manager. When asked who he had got the car from in London, he said Terry Mitchell.. Well, that was new to me as I recalled Terry having the ex-Homewood car off Simon Sabel , which he crashed backwards across the finish line when racing at Lydden (in front of my dad and we still have cine film of it somewhere). Adrian is certain that Terry took over the Homewood Davrian Imp from Simon: he recalls the colour but I can't think who had it between Simon and Terry.
21/05/12 : (Terry Bass)
This is the very last Davrian Imp Saloon shell to come from Davrian at the end of 1980, just before they went out of business. Tim Duffee will confirm this as he helped me carry it across the factory, one of us at the front and the other at the back, that's how light it was - minus glass and doors. I built by myself for the 1981 season of hillclimbs and sprints using an 1130cc motor. For 1982, it was fitted with a 915cc Allard turbocharged engine, again built by myself with the help of Allard and Greetham Engineering which produced 160 bhp at wheels, running on petrol & methanal injected between the air filter & 2" SU Carb when coming on boost. The car was driven both by myself and co-owner Ian Fidoe.
The 915cc turbo-charged engine
After 1982, Ian Fidoe had a MK9 Hewland gearbox fitted and the engine was modified to use a supercharger and I think it eventually blew up on the dyno. If I recall correctly, he then fitted a 1220cc Carter engine but then teamed up with Paul Turner in a Davrian sports car and the saloon rolling shell was then garaged somewhere near his Worcestershire home and eventually ended up in a barn on an old trading estate near Kington just twenty miles up the road from me. I happened to discover that it was there about eight years ago from an advert in The Exchange & Mart and I contacted the owner who offered it to me for £1500. Unfortunately, I couldn't afford to buy it until about twelve months ago when I rang the owner again just in case he still had it, only to find I had missed it by just a few weeks! I would love to have been able to buy it as I had built the car from the ground up, including making all the suspension mounts, uprating the steering rack with a JK quick pinion: I also built the turbo engine as previously detailed (the first engine 1130 cc we bought off John Meredith which was reputed to be ex-Mike Hanson, a guy with one leg, who drove a Maguire Imp and more recently a Skoda), rebuilt the transaxle with JK Straight Cut Gears, fitted a JK Powerlock Diff, strengthened the rear swinging arms, fitted Davrian front Wishbones, made up all the plumbing for the petrol & methonal supplies via two small tanks and Facet pumps in the front and fitted fully adjustable biased braking, Davrian discs & calipers (BMC 1300 I think), split rim wheels, M&H tyres, Spax coil-overs all round, etc., etc.. Where the car is now though, I haven't a clue.
Fred Hendy Rawlson Spaceframe Imp (Fred Hendy - 16-11-13)
This is Rawlson Spaceframe #1 which Barry Sheppard (Rawlson) and myself built in his garage in Dover, as Clive Brown rightfully pointed out further examples were sold to Jim Mcgaufey and Chris Roberts with another car sold I think to Rupert Long.
The spaceframe was designed by Roger Parker and I purchased the Davrian body from my friend and team mate John Homewood who had it hanging on the wall of one of his barns at his farm in Charing. The engine was a Clive Brown demon short stroke 850, Clive asked me not to rev it over 9,000 but it saw 10,000 used in anger quite a few times!
The spaceframe was heavy but was extremely rigid and it proved to be competitive "right out of the box" so much so that I won many races and set several lap records with the car including taking two seconds off the lap record at my local circuit Lydden.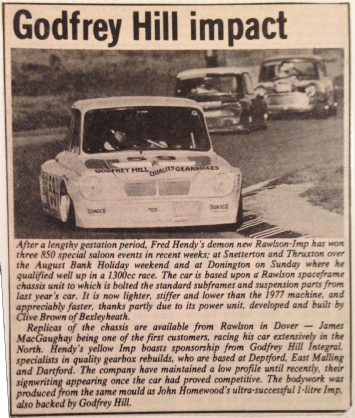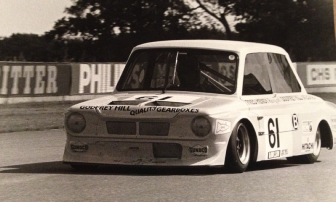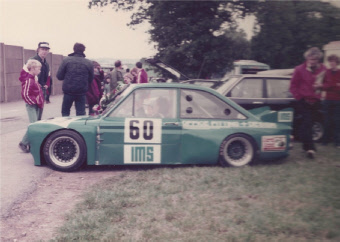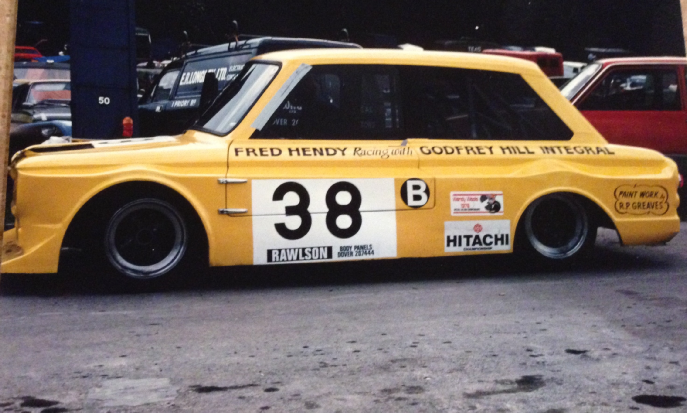 The black and white picture of the car on its own is at Donington Park and the cutting is from Autosport in, I am guessing, around June 1978.
NDR1 Site generated using SERIF WebPlus X7
©John E.F.Rawlins (New Davrian Register) 2018