History of the Davrian marque
The Davrian marque was conceived by structural engineer Adrian Evans when he first saw a Hillman Imp in 1963, prior to its release for sale to the public. He built the first prototype at his house in Grove Park, South London in early 1965, using the floorpan from a crashed Imp, and this was followed by a further two plywood prototypes. Subsequent cars, based on these prototypes, utilised fibreglass construction.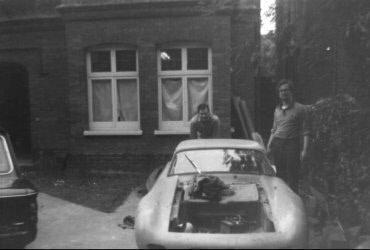 Adrian Evans and Gary Lamb with the prototype Davrian outside the house at Grove Park
In 1967, Adrian formed Davrian Developments Ltd. and production of the cars moved to 65 North Street, Clapham. The earliest cars were open-top models, although subsequent Davrians were produced as two-seater sports coupes. Davrian also produced a number of Davrian Imp Saloons; lightweight replicas of the Imp for use in special saloon and modsports racing.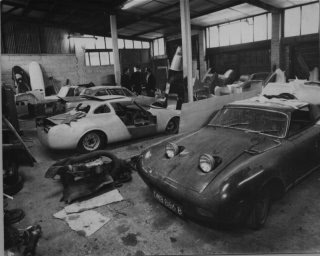 Inside the workshop at 65 North Street, Clapham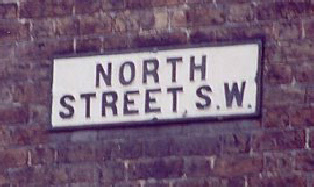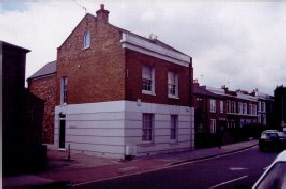 65 North Street (as it is today)
Construction of the cars is based upon a fibreglass monocoque body shell, the sills and voids of which are filled with polyurethane foam to provide additional rigidity. Imp suspension components are utilised both front and rear, although some later cars featured Davrian fabricated swinging and trailing arms. The majority of the cars are rear-engined, powered by variants of the Imp engine mated to an Imp transaxle. However the design of the Mk7 and Mk8 cars allowed use of a variety of engine and gearbox combinations, including Renault engine and transaxle, Mini transverse, Ford CVH transverse, Ford Kent (rear or mid-engined). Cosworth BDA (mid-engined) with Hewland transaxle. Currently there are a number of owners experimenting with the idea of using the Rover "K" series engine.
Early cars retained the rear-mounted Imp radiator but this was replaced from the Mk4 onwards by a front-mounted arrangement for more efficient cooling.
The first Davrians were all supplied in component form, the kits coming either as body shells or rolling chassis less engines. However when Purchase Tax was replaced by VAT, cars were also supplied ready-built. Kits were produced to order to suit the purpose for which they were intended: i.e. versions ranged from ultra-lightweight for racing, to heavyweight for forest stage rallying, with road cars generally falling into the middle category.
It is fair to say that the majority of Davrians have probably seen some competition duty, and in its heyday Davrian ran its own works team in modsports racing. During the '70s and '80s, Davrians, in the hands of the likes of Pat Longhurst and Bob Jarvis, proved extremely dominant in modsports and kitcar racing, often performing giant-killing acts over much more powerful machinery. Davrians have also proved extremely successful in club rallying and hillclimbing over the years. They are still extremely competitive on the hills (witness Harry Simpsons' successes in 1995 et al) although Imp-powered versions are unfortunately seriously handicapped by the current class structure which pits them against cars with up to 1400cc engines. Davrians are still active on the racing scene with four cars having competed in the '95 Lynton Trailers Sports/Saloon Championship. In addition, Granville Williams won his class in the '95 WRDA Sports/Saloon Championship run at Pembrey.
In late 1975, Davrian moved from Clapham to Wales,. Unfortunately the premises in Felinfach into which Davrian had planned to move failed to materialise and for four years production was split between Adrian's house in Llwynygroes and John Dark's garage in Pontyfendigaid where the cars were assembled. It was here that the MK7a was developed for rallying with the help of funding from John Dark. Eventually, however, with help from the Development Board for Rural Wales they moved into Unit 13 on the Lampeter Industrial Estate, and it was here that the Mk8 and Davrian Dragon (Ford CVH-powered Mk8) were first produced. At a later date, with the further support of the Welsh Development Agency (WDA), Davrian moved into newly built Units 24/25 on the same estate. At that time, Adrian was also planning to produce a four-seater car but unfortunately this was not to be, as in February 1983 Davrian went into receivership.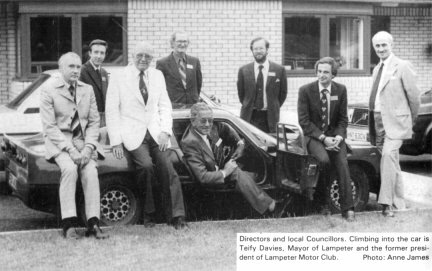 Outside Davrian's Lampeter premises in September 1982
Will Corry of Corry Cars in Northern Ireland bought the assets, intending to produce an up-dated version of the Davrian to be called the Corry Cultra. This car was designed by Tony Stevens of Hillman Hunter renown and, like the Davrian Dragon, utilised a transverse rear-mounted Ford CVH engine. However, the Imp-based suspension of the Davrians was replaced by a Ford-based suspension layout with a Corry-fabricated double wishbone assembly using Cortina MkIII uprights at the front and modified Sierra trailing arms at the rear. At this time Tim Duffee, who had originally become involved with Davrian through rallying and had joined the company as manufacturing manager on its move to Wales, was commissioned by Will Corry to complete the customer cars which had been ordered prior to the collapse.
The Corry Cultra was not a commercial success and Tim Duffee went on to found Team Duffee Engineering which manufactures the Darrian T9 and T90 mid-engined cars, which are the logical continuation of the Davrian theme. Tim also remains actively involved with the Davrian name and is able to carry out body repairs and to provide replacement panels for later cars.
Adrian Evans, who had moved away from cars to manufacture fibreglass two and four-wheeled horse-drawn competition vehicles, unfortunately died in 1992.


NDR1 Site generated using SERIF WebPlus X4
©John E.F.Rawlins (New Davrian Register) 2013